It is a great time to be a kid 🙂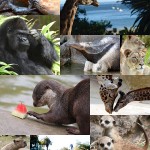 Spring Discovery Camp: Ages 3-5
Colors of Nature
If you could be any color, what would it be?  Discover the whole rainbow of animals at the Zoo.
Spring Safari Camp: Ages 6-9
Life in the Zoo
How much food does an elephant eat in a day?  Why do some exhibits have tall fences and others don't?  Discover the answers to these questions and more as you learn what goes on behind the scenes to keep the Zoo open and the animals happy.